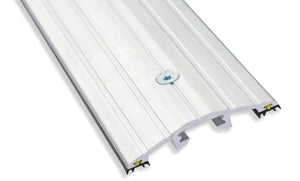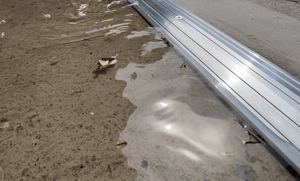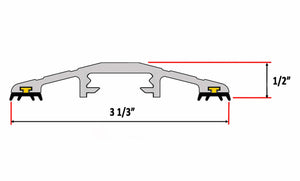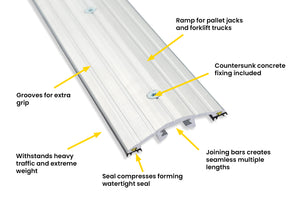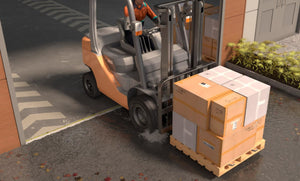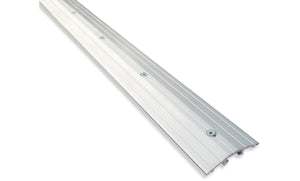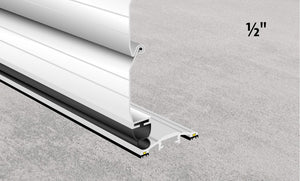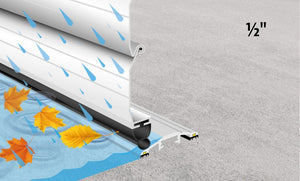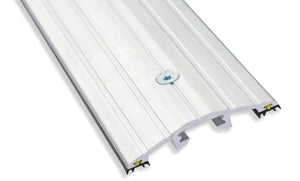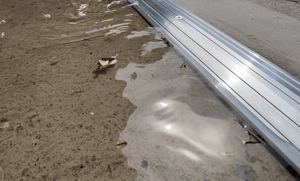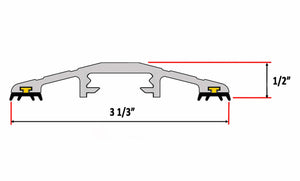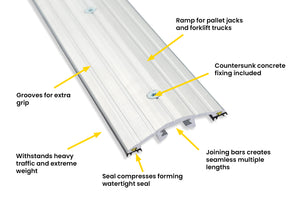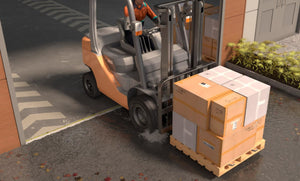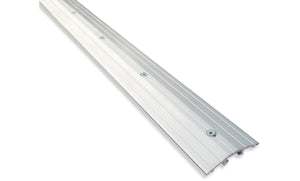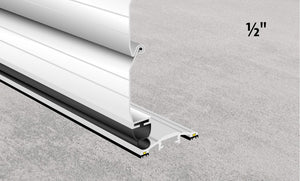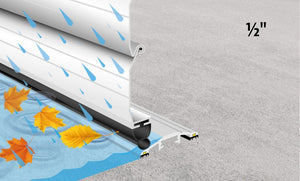 Commercial Door Aluminum Threshold Seal Kit ½" High
Description
The ½" commercial door threshold seal is the best pick for any commercial and also domestic applications when it comes to weather sealing your premises. This is because it is constructed from aluminum sections which are joined together with thermoplastic bottom insert seals and then secured with a flat bar insert which creates a waterproof seal between the door and floor. This then prevents anything from entering the premises whether it's rain or windswept leaves or dust.
Due to being made from aluminum vermin are unable to chew through it, helping to keep them out of the garage. 
This seal can also be used on garages, barns, sheds and airport hangers. If you think it will work with your purpose please contact us and provide photos and we can provide advice on how to achieve a successful installation.
What is this commercial door threshold seal made of?
This and the other products in this category are all made of interlocking sections of durable aluminum. Those sections are locked together using flat bar inserts and once the PVC seals are inserted the kit is a full-fledged threshold seal. All of the materials used in this product are fully recyclable, from the aluminum sections to the bottom seals on the sides as we are committed to being eco-friendly and making sure that our products represent that core value.
The durability of these materials can't be understated, on a 10" plate they were able to withstand 35,000 lbs equivalent to around 16 tons. Even that only slightly fractured the actual aluminum, so you can imagine that no industrial style vehicle like a pallet stacker or forklift will be a problem. If you are searching for something even more durable then our industrial strength aluminum threshold seal will be your ideal solution. Those seals can withstand even more weight and they are flat which means even planes can go over it with no issue.
How does this commercial door threshold seal function exactly?
Once set up properly this seal will stop rainfall and standing water up to ½" high that may be making its way inside the garage, and will help prevent moisture build-up and condensation. This will be extremely helpful if you deal a lot with cardboard on a day-to-day basis, as condensation and moisture can ruin packages and pallets quite quickly. This also applies to metal equipment and tools since moisture causes them to rust faster, and our seal will stop that from happening.
When it comes to uneven flooring that can't be evened out you can always apply our specialist adhesive and sealant to the internal and external bottom seals attached to the product. This will firmly set the product down, but it is recommended to use this product with floors that are even as it simply works best there.
The kit includes:
Aluminum section(s)
Bottom insert seals
Concrete fixings
T30 screwdriver bit
Grub screws
Allen key
Fitting Instructions
How can I get in touch with GaraDry
®

?

The best way to get in contact with us is to us the "Contact Us" button at the top of the navigation or by clicking here. This will let you fill out the form with your details and queries allowing us to either call you or email you depending on your preference. You can also email sales@garadry.com and using either of these methods, as soon as we receive your message we will aim to respond to it in 24 hours when the business is open.

While the business is open from 6-17 EST, you can call us at 866 563 2707 and have your questions answered immediately, as our customer service team will be on hand to help you with everything you may need. We can't wait to hear from you.
Please Note
Kits longer than 8'2" will be supplied with multiple aluminum sections which are secured together during installation, please refer to the table below:
| | |
| --- | --- |
| Kit Length | Aluminum Sections |
| 6'6" | 1 x 6'6" |
| 8'2" | 1 x 8'2" |
| 10'2" | 2 x 5'1" |
| 13'1" | 2 x 6'6" |
| 14'8" | 1 x 8'2", 1 x 6'6" |
| 16'4" | 2 x 8'2" |
| 18'4" | 1 x 8'2", 2 x 5'1" |
| 19'8" | 3 x 6'6" |
| 22'11" | 2 x 8'2", 1 x 6'6" |
| 26'2" | 4 x 6'6" |
| 29'6" | 2 x 8'2", 2 x 6'6" |
Delivery & Returns
Delivery Timescales
GaraDry® operates a warehouse out of Tennessee. Consignments shipped from this location arrive via FedEx Ground service and will usually be received within 1-3 days, depending on your distance from Tennessee.
Upon despatch of your order, you will receive an email with full tracking information so that you may follow your order from our warehouse to your door.
Important: Please note that FedEx are unable to deliver to PO Boxes addresses.
Returns Information
To see our returns information, please visit our Returns Page.