Our Range of Garage Door Seals
Residential Threshold Seals
Central Profile

Seals against the door creating a watertight seal up to the height of the seal

Yellow Warning Line

Designed with safety in mind to prevent tripping & falls

Durable Thermoplastic Material

Durable & flexible - 100% recyclable, and does not degrade over time

Serrated Bottom Edge

Creates a stronger bond to the adhesive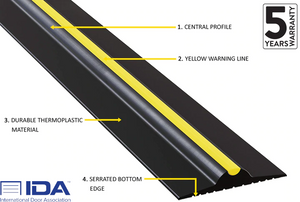 Commercial Door Thresholds
Central Profile

Designed with safety in mind to prevent tripped & falls

Joining Bars

Internal joining bars allow multiple sections to be joined to create a seamless seal

Aluminium Material

Designed to withstand heavier loads, up to 50 ton. Gentle ramp profile allows forklift trucks and pallet trucks to easily pass over

Bottom Insert Seal

Compresses against floor to create a watertight seal up to the height of the seal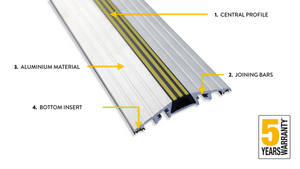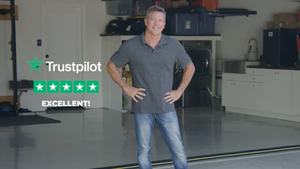 The Best Garage Door Threshold Seals
Here at GaraDry® we design our own range of innovative garage door threshold seal products for all kinds of garage doors. We have garage door seals available for up-and-over doors, side-hinged doors, roller shutter doors and sectional garage doors. Whether you are a business looking for a way to secure your business or make your garage waterproof, our garage door threshold seal products will be able to more than take care of any problems you may have.
Our range of products can help with problems such as; water damage from rain, snow and sleet, leaves, dirt and debris, infestation of unwanted pests and critters, and loss of air conditioning/heating through cracks and gaps. There are a lot of different applications that you can use our garage door threshold seals for, including as flood diverters, wet room partitions, draft excluders in airport hangers, containment bays at car washes and to contain chemical spills in chemical factories. Please contact our team if you have any potential use you are unsure of and we can provide advice and guidance.
If you would like to find out how our garage door seals were first conceptualised and designed you can head on over to our design and development page. There are a lot of other resources available for you, including the threshold buyer's guide which will allow you to find the very best garage door threshold seals available for your needs.
How can our garage door seals help you?
Improve the efficiency and security of your garage with our garage door threshold seal kits for residential garages, commercial doors and storage units! Our premium, durable vinyl and aluminum threshold seals close the gap between your garage door and the floor beneath it, boosting efficiency and adding protection in the process.
We have seals that are suitable for all sizes of gaps under your garage door, so whatever your garage size, we have a solution. Weatherproof your garage door today, and protect it from letting in unwanted rain, snow, drafts, pests, insects and more! With a garage door weather stopper from GaraDry®, you have a way to better seal your garage door, making it more efficient, protected and comfortable.
GaraDry® is a leading manufacturer of premium quality garage door threshold seals to seal the bottom of your garage door against adverse weather conditions and protect it from pests and debris. We have the largest range of floor threshold seals on the market, currently ranging in height from ½" to 2", to protect your garage from rain, leaves, debris, pests and critters. With our specially designed GaraDry® adhesive & sealant, our seals provide a watertight seal between the bottom of the garage door and the floor against standing water up to the height of the seal.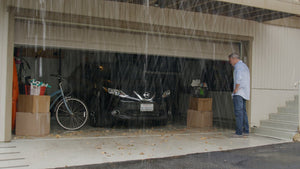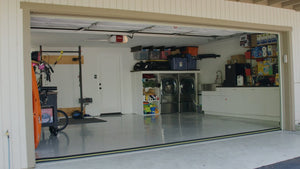 The Ultimate Solution for Rainy Days
Whether you need a solution for your residential garage door, your garage door at work or your storage unit door, we can help. We have designed and manufactured our garage door seals for residential garages, commercial applications and storage facilities, available in multiple lengths to suit any opening size.
If you have heavy vehicles and need something more heavy duty, we supply a range of aluminum commercial door thresholds, ideal for standing up to forklifts, trucks and even airplanes.
Our products are easy to fit with instant results. This means you can immediately benefit from an increase of temperature inside your garage or workshop, as well as a reduction in heat loss from conditioned air escaping underneath the door, cutting down on your energy costs.
Our thresholds are also environmentally friendly, being made from materials that are 100% recyclable. Thresholds made from the flexible vinyl material – as opposed to rubber – have the added benefits of being odorless and will not decay or lose color with prolonged exposure to water or intense sunlight.