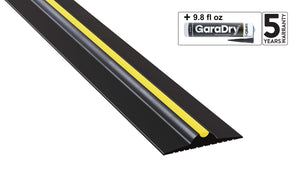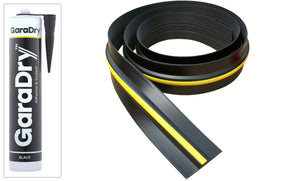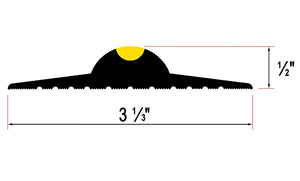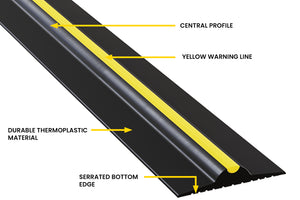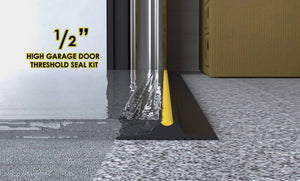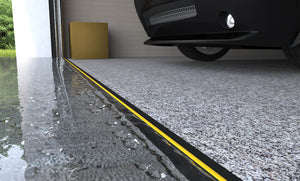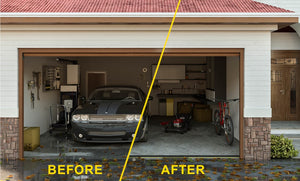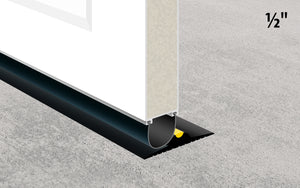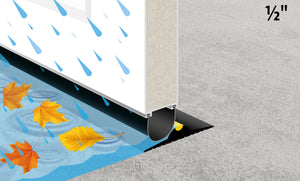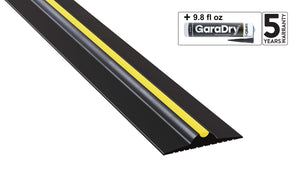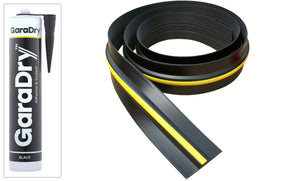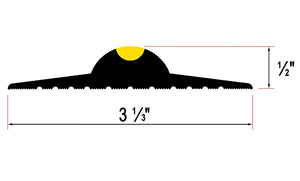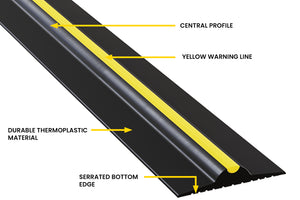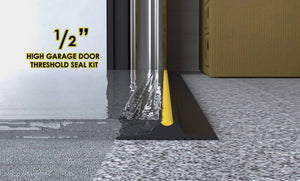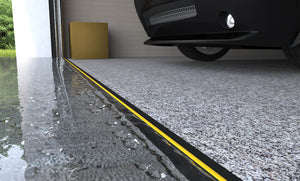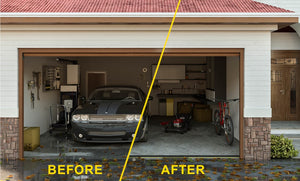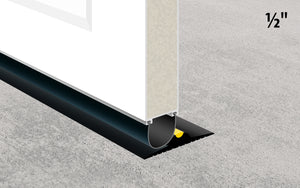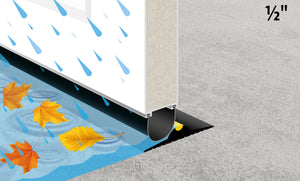 Garage Door Threshold Seal Kit ½" High
Description
The ½" high garage door threshold seal is a must have for any garage that experiences heavy rainfall during the course of the year. This is because the product will stop any windswept rain, leaves, and debris from getting inside your garage. Our aim is to keep your garage clean and dry at all times of the year, and if you have any problems with our product, they all come with a 5-year warranty.
This garage door threshold seal is available in a few different lengths though it is always half an inch high, and 3 ½" wide. The lengths range from 8'3" all the way up to 65' or in other words an impressive 21.67 yards. Be sure to measure your garage opening properly before you buy the product, if it's too large they can always be cut down to size.
How does this garage door threshold seal work exactly?
The first step to making your garage waterproof is to place it firmly down on the floor, make sure it pushes up against the back of your garage door. This combined with the adhesive and sealant provided with the purchase will create a water-tight seal which will not allow any water to pass it further.
That's just the main application however, some of the other benefits are that because it seals any gaps between the garage door and floor it means that mice and other rodents won't be able to slip into the garage. Additionally, it can stop heat from escaping and allow you to enjoy lower energy costs while also reducing condensation in the garage slowing down the rusting of metal equipment and tools.
What material is this garage door threshold seal made from?
The seal and all the other seals in our residential threshold seal range are made from extremely durable PVC material. It is completely odorless, so it won't make your garage stink at all, it is also UV stable which means that it won't be discolored by excessive sunlight in warmer areas. Unlike rubber garage door threshold seals, it will not crack or split and will always maintain its original shape on the floor.
Additionally, we are committed to being environmentally friendly and our products reflect that and this garage door threshold seal is no different. It is fully recyclable so when you are moving or have no use for it anymore you can be sure that the material will be used elsewhere and not just burned.
What type of garage doors can this seal be used on?
This ½" garage door threshold seal can be used on any and all domestic and commercial door types, whether it's a sectional, roller shutter, a side-hinged or an up-an-over door it will fit them all like a glove. As long as you have measured out the length of the garage door in question you will not have an issue placing our seal down and can create a fully waterproof garage.
The kit includes:
Garadry ½" garage door threshold seal
2x Side Blocks (Please note: The 50' is not supplied with side blocks)
Adhesive equal to the amount needed for length specified
Instruction manual for installation with a QR code link to THIS video
5-year warranty on the seal and adhesive
I have some questions; how can I contact you?
There are currently three methods of contacting us here at GaraDry, the first of these is to send an email to sales@garadry.com, we will aim to respond to all queries within 24 hours of receiving them. This method and the contact form work very similarly, you can head on over to the contact form at the top of the navigation under "Contact Us" or by clicking here and fill out the form. Once completed we will take a look over it and get back to you within 24 hours.
If you can't wait and need a query answered promptly, please call our phone line at 866 563 2707. This line is open from 6am until 5pm through Monday to Friday and our customer service team will speak to you and handle your matter and explain any questions you may have regarding the product.
Delivery & Returns
Delivery Timescales
GaraDry operates a warehouse out of Tennessee. Consignments shipped from this location arrive via FedEx Ground service and will usually be received within 1-3 days, depending on your distance from Tennessee.
Upon despatch of your order, you will receive an email with full tracking information so that you may follow your order from our warehouse to your door.
Important: Please note that FedEx are unable to deliver to PO Boxes addresses.
Returns Information
To see our returns information, please visit our Returns Page.