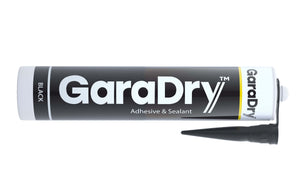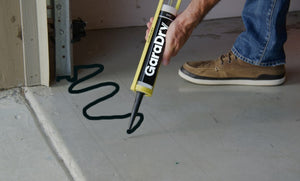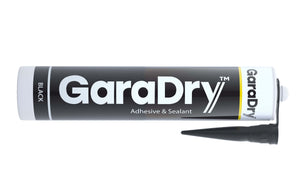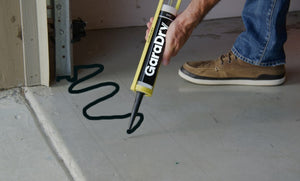 GaraDry® Adhesive (Black)
Description
GaraDry® adhesive and sealant has been specifically engineered by us to be the all-in-one complete solution for adhering and sealing all of our garage door threshold seals. GaraDry® black adhesive & sealant is an all-round, highly durable and permanently flexible adhesive and sealant that has excellent adhesion to non-porous surfaces.
It will also bond to damp surfaces and is paintable (with most paints). The sealant is odourless and free of isocyanates (highly reactive chemicals). GaraDry® sealant has a shelf life (in tube, not applied) of 18 months.
The recommended application temperature for this product is between 40°F and 95°F. Below 40°F the adhesive can become difficult to work with and apply correctly. Above 95°F the product may begin to cure prematurely or discolor.
We recommend keeping the adhesive / sealant at room temperature until it is needed, to make it as easy to use as possible.
Our new GaraDry® adhesive & sealant has been specifically designed for both effectively securing and weather sealing our garage door threshold seals and benefits from:
20% increased surface grab against our previous adhesive & sealant
Increased durability and flexibility vs traditional sealants
Longer shelf life vs our previous adhesive & sealant
Specifically engineered for maximum performance with our entire threshold seal range.
Cartridge size : 10oz (290ml)
PREPARING THE FLOOR BEFORE LAYING THE ADHESIVE
Our adhesive & sealant has been designed and tested to stick to sealed concrete floors. The surface should be cleaned of all dust, dirt, oil and grease before application. Where painted, we recommend using a wire brush to remove any loose paint from the floor. We also recommend using a concrete or block paving sealer to seal the concrete prior to use.
TIME TO DRY
The time for the adhesive to cure is affected by many factors, such as the application temperature, humidity, etc. We recommend leaving the adhesive to dry overnight prior to driving any vehicles over the floor threshold. This will help to ensure maximum bond with the surface.
DOCUMENTATION
Delivery & Returns
Delivery Timescales
GaraDry® operates a warehouse out of Tennessee. Consignments shipped from this location arrive via FedEx Ground service and will usually be received within 1-3 days, depending on your distance from Tennessee.
Upon despatch of your order, you will receive an email with full tracking information so that you may follow your order from our warehouse to your door.
Important: Please note that FedEx are unable to deliver to PO Boxes addresses.
Returns Information
To see our returns information, please visit our Returns Page.