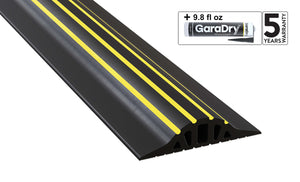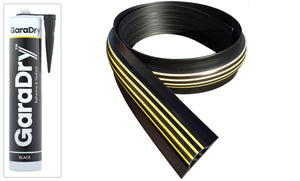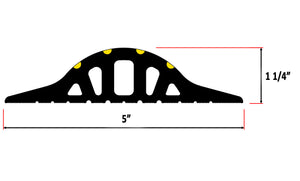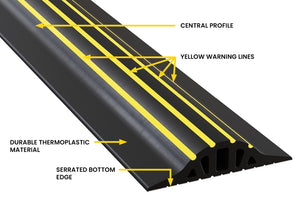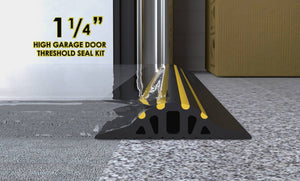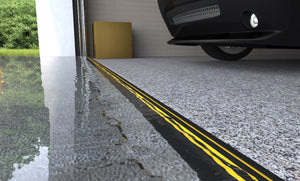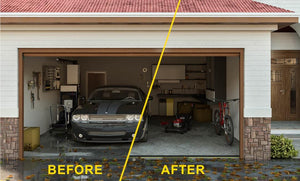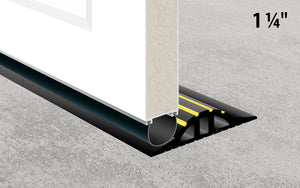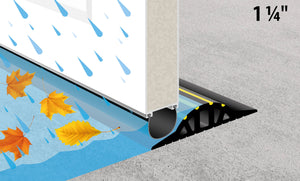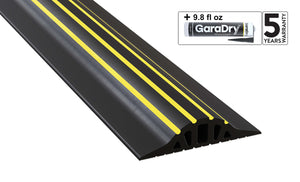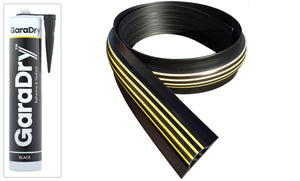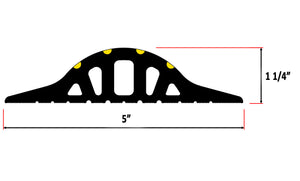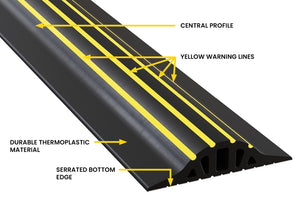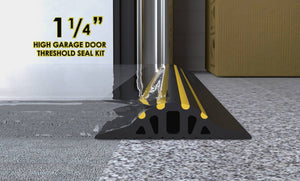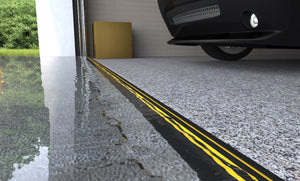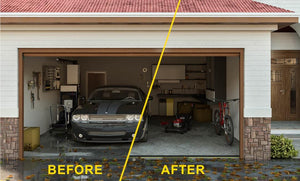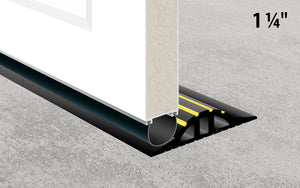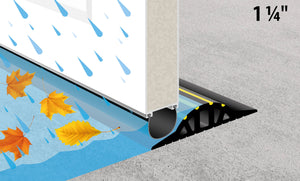 Garage Door Threshold Seal Kit 1 ¼" High
Description
This garage door floor seal is 1 and ¼" high and is our mid-range option between the largest and smallest sizes. It functions as a very effective water stopper and will be able to prevent any rainfall from making its way inside. Due to its height, it can also prevent any flooding damage that may occur during heavier storms up to 1 and ¼" high.
What exact size is this particular garage door floor seal?
This seal comes in the same width and height regardless of which length you pick, and it is 1¼" tall and 5" wide to be precise. There are plenty of lengths available in the drop-down menu above so you will be able to choose anything from 8'3" up to a staggering 33 feet. The threshold can be easily cut to length to fit the exact opening size you have. If you are needing something that is a bit taller as the gap under your garage door is significantly taller than 1¼" tall, you can check out our "Garadam" product which is the tallest garage door seal at 2" high.
How does this garage door floor seal function?
The way our products within this category work is quite similar across the board. When the threshold and the adhesive are bonded with the floor, it creates a seal which stops all water from coming into the garage up to 1¼" in height. Due to its size, it will also block out any leaves, debris and dust that would try to make its way inside during windstorms.
The other applications for this product involve saving you some money on electricity bills by keeping the heat in the garage as it will be fully sealed up. Another way it can help is if you have a lot of mice and rat problems in your area it will stop them infesting as there will be no space that they can crawl through assuming the seal is formed properly.
What materials were used to make this garage door floor seal?
Normally when you see this type of product online, they're usually rubber garage door threshold seals, these will often become brittle and crack when exposed to sunlight and water. Our seals on the other hand are resistant to both, they are UV stable and therefore won't split because of the sun and they won't get discolored either. It is also an environmentally friendly product due to the PVC used, which is fully recyclable.
What type of garage doors can this garage door floor seal be used with?
This threshold seal can go under any garage door, whether domestic or commercial and function well. This includes roller shutters, side-hinged, sectional and the classic up-and-over doors. All you will need to do is simply measure out your garage door to make sure that you order the length that will match it or surpass the length slightly and then cut it to the size you need.
This kit includes:
1 ¼" garage door floor seal with chosen length
Adhesive provided with enough tubes to cover the installation
2x side blocks (Please Note: 33' kit is not supplied with side blocks)
Installation instruction manual with a QR code to this YouTube video
5-year warranty on all products
How can I get in touch with GaraDry
®

?

You can simply call us at 866-563-2707 to get an answer instantly provided you call between Monday-Friday in the hours of 6-17 EST. We will be able to walk you through any issues and answer any questions you may have. If you prefer not to call in then you can simply email us at sales@garadry.com, we will respond to your query within 24 hours and try to help you with your queries. The final way you can get in touch is to fill out our contact form which you can access by clicking "contact us" in the top navigation or by clicking here. We will aim to respond to it within 24 hours provided it was sent on a weekday.
Delivery & Returns
Delivery Timescales
GaraDry® operates a warehouse out of Tennessee. Consignments shipped from this location arrive via FedEx Ground service and will usually be received within 1-3 days, depending on your distance from Tennessee.
Upon despatch of your order, you will receive an email with full tracking information so that you may follow your order from our warehouse to your door.
Important: Please note that FedEx are unable to deliver to PO Boxes addresses.
Returns Information
To see our returns information, please visit our Returns Page.