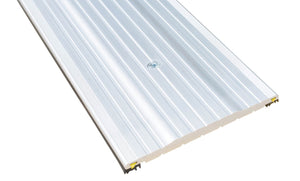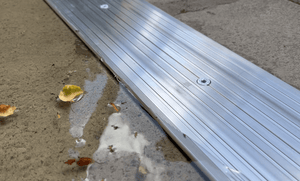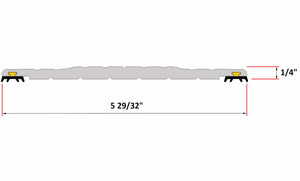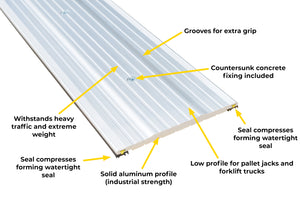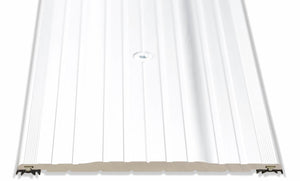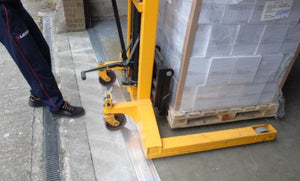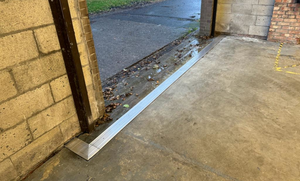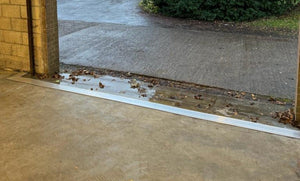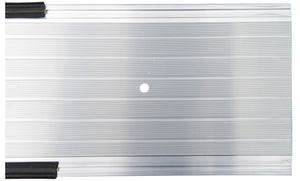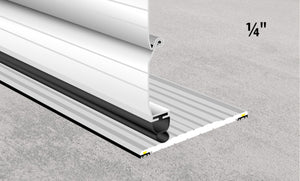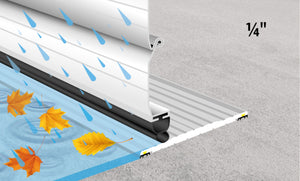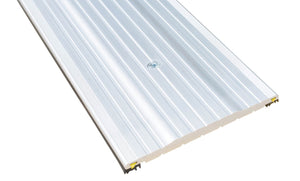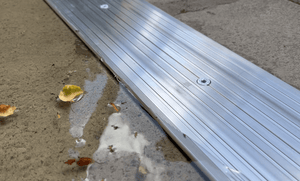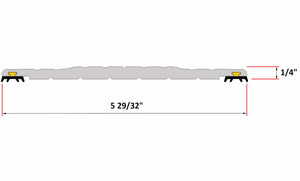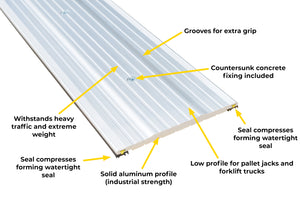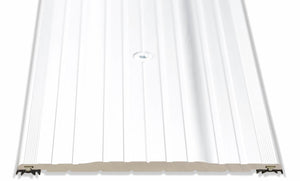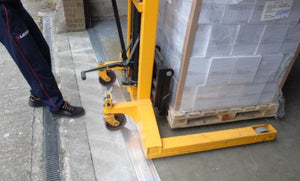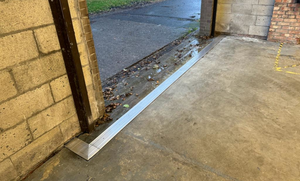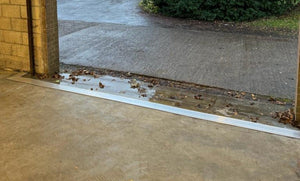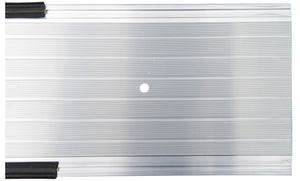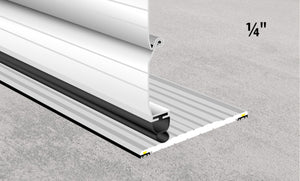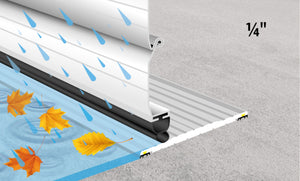 ¼" High Industrial Strength Aluminum Threshold Seal Kit
Description
This industrial strength aluminum threshold was created to function in areas of high traffic with a lot of commercial vehicles. This threshold seal will not be disturbed by any pallet stacker or forklift because it is so durable. Additionally, if you have a garage which sees a lot of large vehicles then this seal will work perfectly too. 
Because this industrial strength threshold seal can withstand weights of over 50 tons, it will be difficult to push it to a breaking point. This is due to the flat design of the seal which allows anything to go over it with no issue. If you are looking for a seal that is highly resistant then you won't find anything better than this seal. 
How does this industrial strength aluminum threshold function?
This threshold contains the same PVC technology found on our residential threshold seal kits. When affixed to the floor and with the PVC bottom seals on either side it creates a watertight seal up to ¼" high. This then fully protects your premises from any water especially during times of heavy windswept rain. However if you set up the seal correctly you should then be able to repel whatever the weather brings.
An additional benefit of these seals, is that they will protect your garage or premises from a variety of rodents. Because the threshold seal leaves no gaps between the door and floor it creates no openings for vermin to use. They will also be dissuaded by the coarse metal of the actual product.
What was used in order to make this industrial strength aluminum threshold?
This threshold seal is made entirely of solid aluminum in a flat shape which has a lot of thickness despite only being a quarter inch in height, that entire ¼" is basically all aluminum.
There are two bottom seals added on either side of the threshold seal to help secure the seal against the elements, which are made from durable thermoplastic material. This is all then secured with concrete fixing screws to secure the threshold against the floor of any kind.
The kit includes:
Aluminum section(s) dependent on the length chosen, see table below for details
Bottom insert seals
Concrete screws
T30 screwdriver bit
Instructions for a smooth installation
Please Note:
Kits longer than 8'2" will be supplied with multiple aluminum sections which are secured together during installation, please refer to the table below:
| | |
| --- | --- |
| Kit Length | Aluminum Sections |
| 5'1" | 1 x 5'1" |
| 6'6" | 1 x 6'6" |
| 8'2" | 1 x 8'2" |
| 10'2" | 2 x 5'1" |
| 11'7" | 1 x 6'6", 1 x 5'1" |
| 13'1" | 2 x 6'6" |
| 14'8" | 1 x 8'2", 1 x 6'6" |
| 16'4" | 2 x 8'2" |
| 18'4" | 1 x 8'2", 2 x 5'1" |
| 19'8" | 3 x 6'6" |
| 22'11" | 2 x 8'2", 1 x 6'6" |
| 26'2" | 4 x 6'6" |
| 29'6" | 2 x 8'2", 2 x 6'6" |
I am interested in this product, how can I reach you?
Assuming you are hoping to get a response quickly the best way to achieve this is to call 866-563-2707, during the hours of 6-17 EST through Monday to Friday. Our customer service team will pick up your call and do their best to answer any and all queries you may have.
The other way you can contact us is to send an email to sales@garadry.com, in which you should let us know who you are and what your query is. We respond to all emails within 24 hours, but mostly sooner if they were sent during business hours.
Following that same idea, you can also fill out the contact form found at the top of the page or by clicking here, fill it out with your details and questions and we will look to answer it within 24 hours of receiving it.
Delivery & Returns
Delivery Timescales
GaraDry® operates a warehouse out of Tennessee. Consignments shipped from this location arrive via FedEx Ground service and will usually be received within 1-3 days, depending on your distance from Tennessee.
Upon despatch of your order, you will receive an email with full tracking information so that you may follow your order from our warehouse to your door.
Important: Please note that FedEx are unable to deliver to PO Boxes addresses.
Returns Information
To see our returns information, please visit our Returns Page.