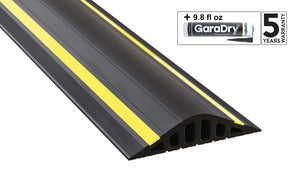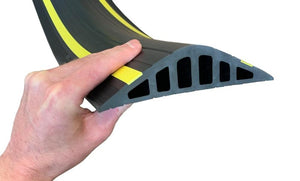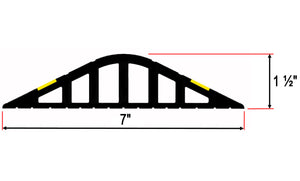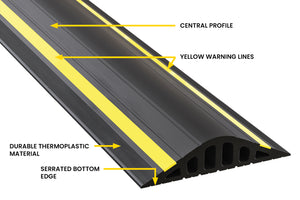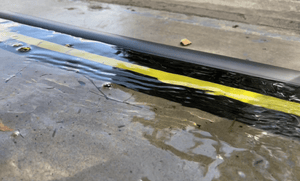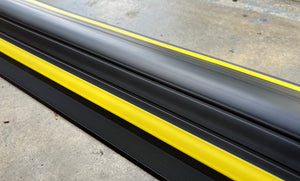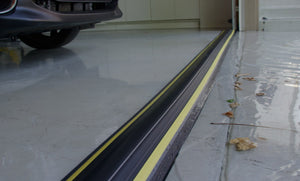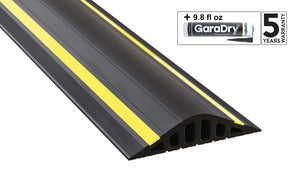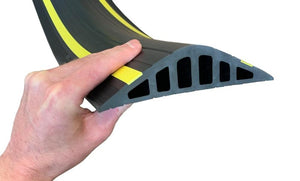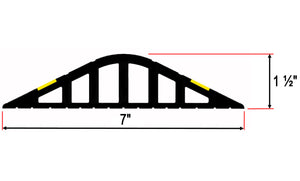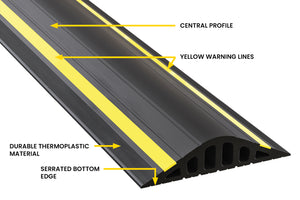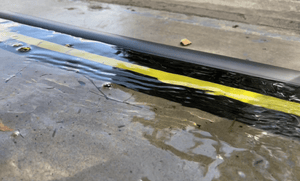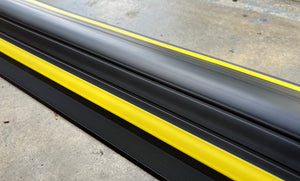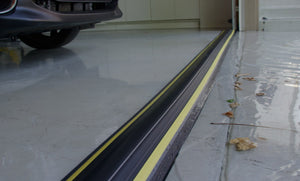 1 ½" High Garage Door Water Barrier Threshold Seal Kit
Description
Our 1 and a half inch high garage door water barrier threshold seal is the ideal solution for any garage which experiences heavy rainfall throughout the course of the year. It will not only act as a barrier to keep water out of the garage but it will also protect you from other unwanted weather effects, such as flying leaves and debris during windy days.
This garage floor water barrier is 1½" tall and 7 inches wide. The lengths available range from 8'3" up to and including 20'3" feet, which you can select in the drop-down menu above. We recommend that you measure out the length of your garage door before you purchase our product however you can always cut it to fit your garage door.
How can I use this garage door water barrier threshold seal?
When the garage water barrier has been stuck down with the adhesive and sealant, it will then push against the back of the garage door and floor. This in turn makes a watertight seal up to 1½" high which prevents any flooding or water from making your garage dirty and wet. It will also keep out leaves and works especially well to keep out dust in warmer areas where garages get really dusty really quickly.
It can also be used as a flood diverter on driveways to direct water from the street away from the house. Due to its imposing size and securing the space between the garage door and floor it can also ward off any pests such as mice or other rodents from entering the garage. 
What material is this garage door water threshold seal made from?
Created using fully recyclable thermoplastic PVC material, this is an eco-friendly product which also can withstand any direct sunlight and not become brittle. This is because unlike similar products which use rubber as the main component, it is UV stable and will simply not experience any adverse effects from it. It will not lose its color from either water damage or excessive sunny days.
Is there any type of garage door that won't be suitable for this product?
Even though the size of this particular garage door water barrier seems very large, there is no type of door that it can't be used on. Our range of residential threshold seals can be used in any domestic or commercial applications, meaning they can slide effortlessly under roller shutter doors, side-hinged doors, and up-and-over doors with ease. They can also function effectively with sectional doors. We also supply aluminum seals which can be used for roller shutter doors and sectional doors which provide better protection for places like warehouses which see a lot of heavy vehicle traffic.
This kit includes:
GaraDry® 1½" garage door water barrier of chosen length
Adhesive to match the amount needed to install the picked length
Full instruction manual detailing installation process
5-year warranty on all the products in the kit
QR Code link to this video to help with installation
How can I contact GaraDry
®

?

The easiest way to get in touch with us is to simply call 866-563-2707 which will put you through to our customer service team. They will be able to answer any questions you have regarding the product or other queries. Secondly you can email us at sales@garadry.com, we will aim to answer any email within 24 hours of receiving it and we will respond to it with all the information you may need.

Finally, you can use the contact form located here or at the top of the page by clicking "Contact Us", once you have filled out the form with your details and query we will get back to you also within 24 hours of receiving it.
Delivery & Returns
Delivery Timescales
GaraDry® operates a warehouse out of Tennessee. Consignments shipped from this location arrive via FedEx Ground service and will usually be received within 1-3 days, depending on your distance from Tennessee.
Upon despatch of your order, you will receive an email with full tracking information so that you may follow your order from our warehouse to your door.
Important: Please note that FedEx are unable to deliver to PO Boxes addresses.
Returns Information
To see our returns information, please visit our Returns Page.